Pump Model: SHR/100D (6/4D-AHR)
SHR/100D is equivalent to 6/4D-AHR, a 4" discharge rubber lined slurry pump, which is widely used for corrosive slurry applications. SHR/100D is the most popular pump model among our horizontal centrifugal type heavy duty rubber lined slurry pumps. It is used to handle tailings in various mining sectors. Plus, it can also be used to feed cyclones for sand washing plants, quarries, etc. SHR is high corrosion-resistant pump series for the hydraulic conveyance of liquids-solids of any type. It's wet-end spare parts are made of natural rubber R55, a black soft natural rubber, which has superior erosion resistance to all other materials in fine particle slurry applications. The high erosion resistance of R55 is provided by the combination of its high resilience, high tensile strength and low Shore Hardness.

Rubber pumps can also be used for applications where metal pumps are widely used, when the pH is 5-8. But they are more often used to handle fine articles with small solids.
Applications:
Mine Dewatering; Sand Pumping; Manure Slurry; Oil Sands; Tailings and Aggregate; Coal Production etc.
Material Construction:
| | | |
| --- | --- | --- |
| Part Description | Standard | Alternative |
| Impeller | R55 | Polyurethane |
| Cover Plate Liner | R55 | Polyurethane |
| Frame Plate Liner | R55 | Polyurethane |
| Throatbush | R55 | Polyurethane |
| Split Outter Casings | Grey Iron | Ductile Iron |
| Shaft | Carbon Steel | SS304, SS316 |
| Shaft Sleeve | SS304 | SS316, Ceramic, Tungstan Carbide |
| Shaft Seal | Expeller Seal | Gland Packing, Mechanical Seal |
| Bearings | ZWZ, HRB | SKF, Timken, NSK etc. |
Construction & Structure: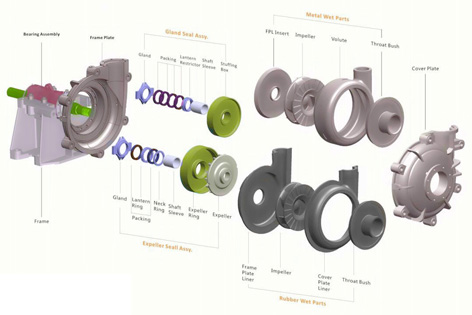 Specifications:
Flowrate: 144-324m3/hr; Head: 12-45m; Speed: 800-1350rpm; Bearing Assembly: DAM005M

(Optional Bearing Assembly: DDAM005M, E005M, EE005M)
Impeller: 5-Vane Closed Type with Vane Diameter: 365mm; Max. Passage Size: 44mm; Max. Efficiency: 64%